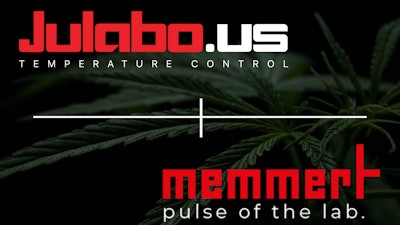 Julabo USA and Memmert USA have entered a strategic partnership that joins the North American counterparts of two global temperature control companies.
The agreement outlines several co-branded tactics that will be released throughout the year for promotional use within the cannabis industry.
Julabo USA offers a line of recirculating chillers, heating circulators and temperature control systems that can control temperatures throughout several steps of the cannabis processing workflow, from extraction to distillation.
"There is no denying that the cannabis industry is one of the country's fastest-growing market segments. Memmert USA has the temperature control solutions the industry needs to meet the continued demand, and we value the relationships and expertise Julabo USA already brings to the table," explained Joshua Persaud, vice president of key accounts and strategy at Memmert USA.
Memmert offers versatile equipment for the extraction, decarboxylation and curing processes, including climate chambers and drying and heating ovens.
Temperature affects nearly every aspect of cannabis processing and the companies offer complementary product solutions, from German engineering to local sales and service support.