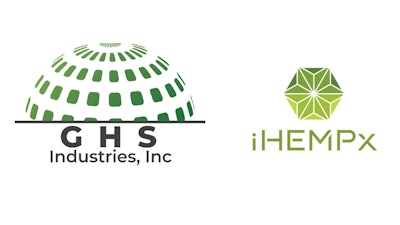 GHS Industries today announced a commitment to working exclusively with International Hemp Exchange (iHEMPx), a seed and genetics provider in the hemp industry.
GHS Industries is an American manufacturer of hemp and agricultural processing equipment. The company has a unique ability to build anything from a single piece of equipment to an entire hemp processing facility. This ability is in part due to their multi-faceted partnerships in the industry.
Watch: Jeremy Luciano: Veteran Combats Fear in the Hemp Industry
By working exclusively with iHEMPx, GHS creates another much-needed connection for customers. iHEMPx is a provider in the hemp supply chain, serving every level from genetics to seed and start distribution, to cannabinoid extraction and hemp farming resources, and the partnerships to connect everything in between.
iHEMPx offer GHS's clients access to high-quality compliant genetics and seeds from a trustworthy source and helps farmers find the perfect varietal, including grain & fiber, CBD and CBG.
GHS founder and CEO Jeremy Luciano and iHEMPx founder and CEO Mike Leago both came from humble beginnings. They each discovered a need and demand in the hemp industry, and have worked tirelessly to meet those needs and grow their respective businesses. Both have and continue to rely on a team-minded and interconnected strategy that strives to serve all involved to the highest capacity.