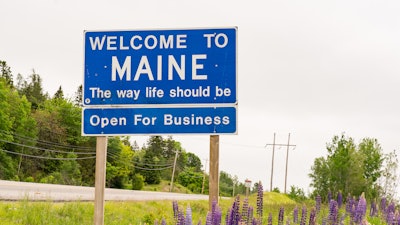 iStock
The State of Maine's Office of Cannabis Policy (OCP) today released a report examining how cannabis consumption, market dynamics and health outcomes vary by geographic region, cannabis market and other variables.
The report is the result of the OCP's first population-based survey effort, recruiting almost 2,000 participants across 262 zip codes in the state during Winter 2021. The survey was conducted in partnership with Advocates for Human Potential, led by Dr. Michael Sofis, a leading cannabis demand and consumption behavior researcher.
The report's findings include past-month cannabis use prevalence, supply and demand insights, and health outcomes significantly linked to sources of cannabis. Some specific highlights from the report are:
About 64% of cannabis accessed for consumption among past-month cannabis users in Maine is estimated to come from a regulated or otherwise legal source; 36% is from an illicit source.
When accounting for the time since the first adult-use store was opened in Maine, the current instate illicit market is likely smaller than in most other states with adult-use cannabis laws, suggesting Maine is likely effectively curbing the illicit market at a greater rate than most other states with adult-use laws when accounting for how long adult-use stores have been open.
Those who prioritize their source of cannabis highly and those who are younger are more likely to get their cannabis from adult-use stores and to have transitioned to adult-use stores since January of 2021.
Living in a ZIP code with 1+ adult-use store is associated with a significant increase in how much of one's cannabis use is sourced from adult-use stores, even after accounting for age, gender, medical cannabis patient status, and illicit cannabis sourcing. This suggests that the presence of an adult-use store may incentivize consumers to access some of their cannabis from the regulated market.
ZIP codes that do not have adult-use stores that also demonstrate moderate to high levels of willingness to pay for adult-use cannabis may present relevant locations for future adult-use stores to further transition consumers to the regulated market.
Substate analyses within ZIP codes, like the state-wide data, showed that greater reliance on accessing cannabis through dealers and medical sources related to greater Cannabis Use Disorder (CUD) and driving under the influence of cannabis (DUIC), but accessing cannabis through adult-use stores did not relate to either negative health outcome.
Based on Cannabis Use Disorder (CUD) screening questions placed in the survey, 1 in every 10 Mainers meet the criteria for CUD, and 1 in every 3 Mainers who use cannabis at least monthly meet the criteria for CUD, a finding relevant for ensuring access to CUD treatment.
About six times more individuals who use cannabis at least monthly get their cannabis exclusively from adult-use stores, compared to those who only get their cannabis from an illicit source (6% vs.1%).
Over half (54%) of consumers who purchase from home-based caregivers do not have a medical card.
Similarly, approximately 1 in 3 consumers who purchase at medical dispensaries or from caregivers with retail storefronts do not have a medical card (33%).
Consumers who purchase from medical sources consume more grams on average than adult-use consumers.
For every $1 of demand for adult-use cannabis in Maine, there is about $2 of supply. This finding is very consistent with proportions achieved and anticipated elsewhere, and this achievement comes only 1 year after industry standup.
When using many documented assumptions that favor results towards a balanced estimate of a medical market demand-to-supply ratio, there is about $1 in demand for every $6 of supply, suggesting the medical market is oversupplied relative to the adult-use market and desirable ratios achieved in other states.
"Make no mistake, the findings of this report show that the implementation of the adult use market in the state of Maine may be considered an achievement in both public health and cannabis policy," said Dr. Michael Sofis, AHP Senior Scientist and Principal Investigator for the study.
"The findings of this report serve as an excellent baseline for us to measure the continued evolution of our programs," said OCP Director Erik Gundersen. "OCP strives to be a model of good governance for the cannabis industry. In addition to continuing research and producing reports like these, OCP will be conducting broader stakeholder outreach to empower industry and community participation in this goal."