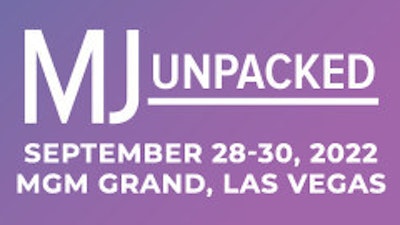 This week, MJ Unpacked announced the launch of the MJU Venture Summit to be held on Wednesday, September 28, at the MGM Grand in Las Vegas, Nevada, in conjunction with the larger exclusive cannabis trade event.
Attendance at the MJU Venture Summit is exclusive to venture fund managers, family office executives and ultra high-net-worth individuals (UHNW) actively investing in the cannabis space and requires registration for MJ Unpacked.
The half-day program will kick off at noon on Wednesday with a hosted lunch and networking, followed by high-level relevant discussions for the investor set in the cannabis space. The program will close with a champagne networking session before feeding into the Brand Experience Hall opening reception at MJ Unpacked, featuring some of the most innovative and successful brands from every adult-use market in the United States.
Speakers from Verano, Terrapin Care Station, Cowan & Co, the Canadian Stock Exchange, American Trade Association for Cannabis and Hemp (ATACH), the US Cannabis Council, Poseidon Investment Management, Merida Capital Holdings and BDSA will headline sessions at the MJU Venture Summit.
Sessions will focus on investor-relevant topics, including utilizing public market capital, the latest updates for federal reform, global markets reports, and an exits panel.
MJ Unpacked is the only national cannabis event exclusively for cannabis brands, retail executives and accredited investors actively investing in cannabis.
The event will be held September 28-30 at the MGM Grand Convention Center in Las Vegas.
Registration is available through www.mjunpacked.com. Investors are required to register for MJ Unpacked and meet the event's registration requirements to access the MJU Venture Summit.