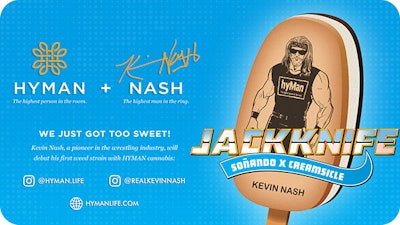 Professional wrestler Kevin Nash has launched a new strain with Hyman Cannabis.
Nash will be making appearances at select Michigan dispensaries to meet fans and sign autographs for the launch of Jackknife, which is named after his signature pro-wrestling move.
A long career in the squared circle brought years of physical wear and tear on Nash's body. As a result, he turned to cannabis and found relief.
Nash is an occasional smoker who has also used Chill Medicated, a THC and CBD topical rub, to treat his ailments. The topical minimizes pain and inflammation without the psychoactive effects.
Nash underwent pheno-hunting with Hyman cultivators and opted for a strain crossing industry favorite Creamsicle with Soñando, one of Hyman's marquee genetics.
The Jackknife will debut in Michigan on Friday, September 2, and will be available in a 3.5G pre-pack (eighth) and 1G Handcraft (glass tip joint) in the following dispensaries:
Nash's two-day signing tour includes:
Friday, September 2
URB Monroe | 11:00 am - 12:00 pm
JARS River Rouge | 1:00 pm - 2:00 pm
Bazonzoes Walled Lake | 3:00 pm - 4:00 pm
PUFF Utica | 4:00 pm - 5:00 pm
Dispo Romeo | 5:30 pm - 7:00 pm
Saturday, September 3
Cloud Utica | 12:00 pm - 1:00 pm
Joyology Centerline | 1:30 pm - 2:30 pm
JARS Centerline | 3:00 pm - 4:00 pm
House of Dank Centerline | 4:30 pm - 5:30 pm
PUFF Madison Heights | 6:00 pm - 7:00 pm