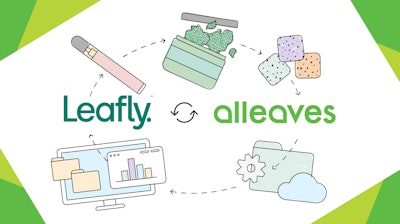 Alleaves/Leafly
Alleaves, a seed-to-sale tech company, announces integration with Leafly, one of the world's largest cannabis discovery marketplaces and resources. The companies will work together to provide customers with an all-new and enhanced experience.
"Alleaves is excited to announce this partnership with Leafly," said Mike Beedles, Co-Founder and CEO of Alleaves. "Alleaves continues to expand our footprint in many ways, one of them being key integrations along the way. Together, Alleaves and Leafly provide key components to further our mission to be the leading enterprise resource planning (ERP) platform for cannabis companies nationwide, and stay true to our dedication to Control, Clarity, Cohesion, and Compliance."
With this new partnership, customers will receive real-time inventory updates from Alleaves, with automatic menu syncs between the POS and Leafly.
"As we continue to expand Leafly's offerings to provide cannabis consumers with the best possible shopping experience, partnerships like this are so important and equally exciting," said Jason Tartaglia, Senior Vice President of Product for Leafly. "This new integration with Alleaves brings increased value to our retailers and our platform."
This integration comes days after Alleaves announced its acquisition of Forian's Biotrack, in a $30 million dollar deal. This purchase, coupled with a new batch of leading integration partners and rapid expansion into new territories, reaffirms Alleaves' place as a leader in the cannabis tech industry.