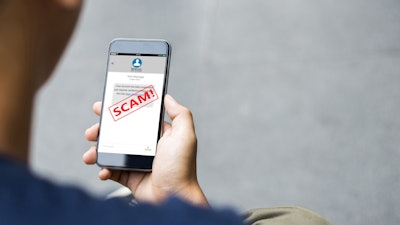 iStock
Montana's Cannabis Control Division (CCD) today issued an alert regarding a new scam targeting workers at cannabis shops, and some are falling for it. The ruse has been dubbed the "fire extinguisher scam" because workers are contacted via a spoofed phone number to verify that the business's fire extinguishers are in compliance.
The spoofed numbers have appeared to be coming from the store owner's attorney or even the owners themselves.
The scammer often tells the store employee that an inspector from a government entity is planning a store visit to verify the fire extinguishers are in compliance. The scammer asks employee to send photos of the extinguishers, exit signs, business licenses and other regulatory items.
Then, through a series of text messages, the victim is asked to bring a large sum of money to a location where it's handed off to someone the employee doesn't know or they are instructed to use a crypto currency ATM.
Because the employees believe they are communicating directly with the owner of the shop (or their attorney), they have fallen for the scam.
The CCD urges cannabis operators to inform employees that legitimate state inspectors will never demand or accept payment in the field.
In other instances of this type of scam, the perpetrators have asked for money for "emergency surgeries" for a cannabis business owner's son, money to pay for a license fee and various other untrue stories. The scams are typically conducted over Voice over Internet Protocol (VoIP). VOIP is a technology that allows users to make voice calls using a broadband internet connection instead of a regular (analog) telephone line.
The CCD asks any operators whose employees have been contacted or fallen victim to this scam to contact local law enforcement to report the incident, and notify a CCD inspector immediately.