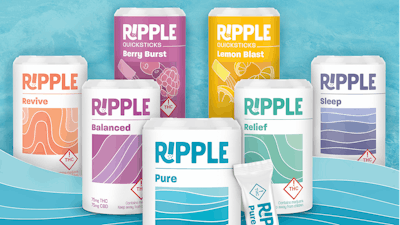 Ripple
Ripple, a company specializing in water-soluble THC, recently unveiled its first rebrand since launching in 2016, as well as the addition of Revive, a new CBG dissolvable product.
The rebrand is the culmination of an internal effort harnessing years of industry research and consumer feedback. Ripple has long held a cult following in Colorado thanks to its uniquely convenient form factor and ability to deliver reliably enjoyable experiences.
Ripple is also adding a CBG product to its flagship lineup. Revive — a 1:1 blend of THC and CBG — brings another functional edible to the current dissolvables suite, which includes: Pure (THC), Balanced (1:1 THC:CBD), Relief (40:1 CBD:THC), and Sleep (2:1 THC:CBN). Ripple products are unflavored, water-soluble powders that can be added to any food or beverage to give consumers ultimate control over their cannabis consumption.
"Ripple is a first-of-its kind product," said Justin Singer, CEO of Ripple. "We have long held the belief that product quality comes first, and with this rebrand we get to see all facets of the Ripple product elevated. By adding Revive to our suite of products, we're better able to serve the needs of our consumers by providing innovative and consistent products across the cannabinoid spectrum."
The updated Ripple lineup, including Revive, is now available at partner dispensaries across Colorado.