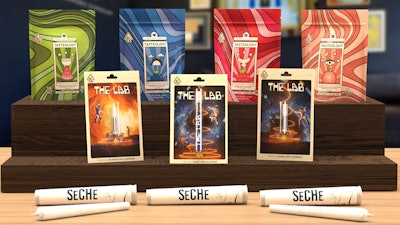 Jushi
Jushi announced the launch of a = product suite in California that includes three brands crafted to meet cannabis consumers' preferences and price points. With the addition of Sèchè Pre-Roll Singles, Tasteology Fruit Chews and The Lab Vapes, the company brings a new selection of brands and proprietary products exclusively available at the company's Beyond Hello retail locations in California.
"As California is one of the most competitive and mature cannabis markets in the world, California cannabis consumers have some of the most discerning tastes," said Jim Cacioppo, Chief Executive Officer, Chairman and Founder of Jushi. "They want high-quality products at a range of price points that deliver a premium consumer experience. Our diverse house of brands has been carefully crafted to meet the needs of the canna-curious and the canna-connoisseurs alike. As we expand Jushi's branded product portfolio in key markets across the country, we look forward to exceeding consumers expectations by offering new, innovative brands and products through our digital and retail store footprint."
Sèchè Pre-Roll Singles are packaged in environmentally sustainable ocean-bound plastic tubes and come in seven varieties. The new pre-roll 1g singles are now exclusively available for purchase at Beyond Hello Santa Barbara, Beyond Hello Grover Beach and Beyond Hello Palm Springs for $9 each or five for $35.
Jushi's Tasteology Fruit Chews are vegan, gluten-free and available in four new varieties, including Sour Watermelon Waves, Strawberry Spirit, Blue Raspberry Bliss, and Peachy Dreams. All natural, and containing no colorings, preservatives or artificial flavors, each package of Tasteology Fruit Chews includes 10 individual chews, each infused with 10mg of THC and other minor cannabinoids. Tasteology Fruit Chews are available exclusively at Beyond Hello California retail locations for $12 each or three for $30.
The Lab's new product line includes a 1g live resin vape cart, a 1g cured vape cart and a 1g cured rechargeable all-in-one vape pen in varieties.