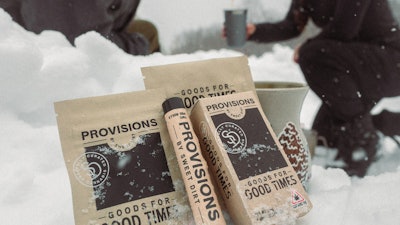 Sweet Dirt
Sweet Dirt, a Maine-based, vertically integrated cannabis company, today announced the launch of its Provisions brand, offering a line of sustainably grown cannabis offerings for the Maine adult-use market. Provisions will be available at Sweet Dirt's retail stores in Portland, Waterville, Rockland, and Bridgton before Valentine's Day and will also be available via select adult-use cannabis retailers throughout the State.
"We hear from our customers that their lives can be complex, intense, and often stressful. Individually, and as a society, we will continue to be faced with rapidly changing unpredictable life circumstances," said Amanda Abelmann, SVP of Operations for Sweet Dirt. "With Provisions, we wanted to bring our adult-use customers a brand that includes clean product, first and foremost, sustainably packaged and at a discovery price point - empowering customers to continue their personal journey and explore all facets of how they choose to live their lives."
Provisions pre-rolls are packaged two .75g pre-rolled joints to a tube in discreet, certified child-resistant, plastic-free, home compostable tubes.
Provisions flower is packaged in bags manufactured in New England and are child-resistant, resealable, and made with films that can be recycled wherever PE film recycling streams are available.
Provisions Vape carts, to be released in March 2023, are sold in boxes made using certified wind power.
Sweet Dirt's Provisions line-up builds on the company's continued commitment to product innovation and to working with our customers to find and develop the products they want most.