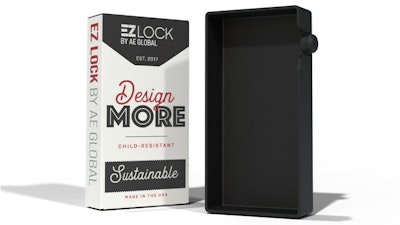 AEG
AE Global (AEG), a resource for CPG Packaging, announced the launch of EZ-Lock X ORG, a packaging solution developed in partnership with Ocean Recovery Group (ORG), and certified "plastic negative" by rePurpose Global. EZ-Lock X ORG was created to meet growing industry demand for scalable, customizable, and domestically assembled cannabis packaging with a measurable environmental impact.
AEG has heavily invested in ORG, AEG's recycling facility in the Dominican Republic, to establish a robust, closed-loop infrastructure to combat plastic pollution at scale. Ocean-bound plastic (OBP) is gathered at the ORG's collection and processing site in the Dominican Republic, where the facility sorts, washes and produces flake. The flake is used in the injection molding process to form AE Global's EZ Lock x ORG child-resistant cannabis packaging.
"At AE Global, we have proven that we are the industry leader in sustainable packaging. Our closed-loop OBP recovery program captures and converts at-risk materials before it can harm the environment. It helps our customers achieve their sustainability goals through eco-friendly packaging options and plastic recovery," said AEG's Managing Partner, Mike Forenza.
With every purchase of an EZ-Lock x ORG tray, nearly 35 grams of plastic are recovered, which roughly equates to twice the amount of plastic used to generate each tray, certifying it Plastic Negative by rePurpose Global. AEG maintains a robust reporting system allowing customers to track, report and communicate their impact through their sales and marketing channels. AEG has funded the recovery of 80,000 pounds of ocean-bound plastic through this initiative, while ORG has recovered 2,148 tons.
"We understand the pressure cannabis companies are under to produce profits under challenging economic conditions, making it even more difficult to be responsible stewards of the environment. By leveraging an in-house recycling platform, we are producing EZ-Lock X ORG in a package that is affordable and functional without sacrificing shelf appeal," added Mike Forenza.