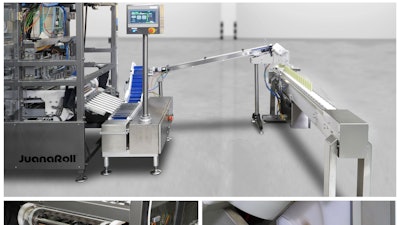 Canapa by Paxiom
Canapa launches its new Automatic Pre-Roll Tube Loading System, designed specifically to meet the growing demands of the cannabis industry. With a focus on reducing labor and increasing productivity, this cutting-edge packaging system is set to transform pre-roll production for businesses of all sizes.
In the fast-paced world of cannabis production, efficiency is paramount. Recognizing the industry's need for streamlined processes, this Automatic Pre-Roll Tube Loading System has been engineered to seamlessly integrate into the JuanaRoll automatic pre-roll machine or any existing production line.
Watch: Nick Taraborelli: If We Do Good Work, the Universe Will Treat Us Well
The system's servo driven indexing pocket conveyor efficiently receives pre-rolled joints and then singulates and dispenses them directly into rigid tubes or trays. With a remarkable capacity to fill up to 3,000 joints per hour, this innovative system delivers unparalleled speed and precision, meeting the demands of high-volume production.
One of the key advantages of Canapa's Automatic Pre-Roll Tube Loading System is its adaptability. It can be easily configured to dispense pre-rolls orientated in any desired configuration, catering to the unique needs of each business. Furthermore, the system seamlessly integrates with its own downstream KAPR® capper and LBLR labeling machines, enabling a complete end-to-end production process.
Canapa's commitment to modular design extends to this groundbreaking system as well. The Automatic Pre-Roll Tube Loading System can be effortlessly integrated with other automated solutions, such as the WeightCheQ check weigher and 360Vision™ inspection system. This modular approach allows businesses to create a comprehensive and efficient production line, tailored to their specific requirements.
With this groundbreaking innovation, Canapa is revolutionizing pre-roll production in the cannabis industry. The Automatic Pre-Roll Tube Loading System offers unparalleled efficiency, adaptability, and integration possibilities, empowering businesses to take their operations to new heights.