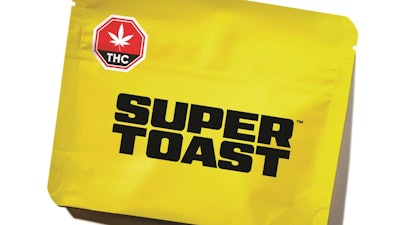 Pure Sunfarms
Pure Sunfarms, a wholly owned subsidiary of Village Farms International, continues growing its brand portfolio with the addition of Super Toast, a brand focused on convenience and ready-to-go products. Super Toast will offer ready to smoke products intended for consumers who are looking for easy ways to select and experience fresh and potent cannabis.
For the initial launch, the brand is bringing consumers two of the most popular to-go formats—fresh ground flower and whole gram pre-rolls.
Super Toast Ground Flower will be available in sativa, hybrid and indica varieties. Each yellow Super Toast bag is packed with 7g of fresh weed with 20-26% THC:
Sgt. Pineapple (Ground Flower): Super Toast's Sgt. Pineapple offers 7g of potent bud, full of sweet and vibrant tropical aromas ground from whole hybrid flower.
Citrus Abduction (Ground Flower): Super Toast's Citrus Abduction is an intense mix of lemon, grapefruit and orange aromas. Available in 7g of powerful sativa, ground from whole flower.
Triple Berry Supreme (Ground Flower): Super Toast's Triple Berry Supreme is packed with berry aromas in a 7g bag of potent indica, ground from whole flower.
Super Toast 1g Hoagies are joints packed with a whole gram of single strain bud that always hits at 20% or more THC, packed in a reusable pop top tube.
Hoagies (2 x 1g Joints): Freshly rolled hoagie-sized joints served up beefy, bulky and full of herbs. Stuffed with a whole gram of potent, fresh, strain du jour. Two in a pack, because two is better than one.
Super Toast products are now available in BC and will be in Ontario and Alberta in the weeks to come.