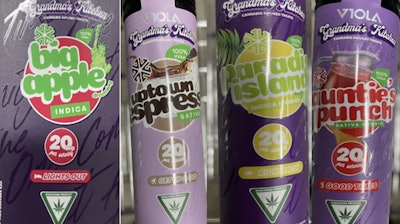 Cannabis Regulatory Agency
In the interest of public health and safety, the Cannabis Regulatory Agency – in coordination with SBCMI, LLC, dba Shango (AU-P-000160) – issued a bulletin today announcing a voluntary recall of a limited amount of marijuana-infused edible products due to non-compliant creation and packaging. During an investigation, the licensee was unable to demonstrate that the product was homogenous. In addition, the product exceeds the maximum allowable THC concentration per serving.
The full list of recalled products is available here.
Consumers who have these products in their possession should return them to the marijuana sales location for proper disposal. Consumers who have experienced adverse reactions after using these products should report their symptoms and product use to their healthcare providers. Consumers are encouraged to also report any adverse reactions to marijuana product to the CRA by completing this Adverse Reaction Form and submitting it according to the instructions included or by phone at 517-284-8599.