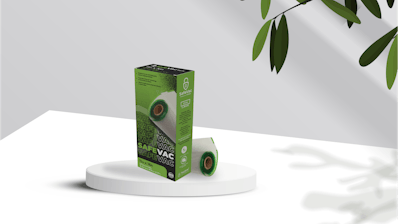 Grove Bags
Grove Bags, a provider of USA-Made cannabis packaging powered by TerpLoc Technology, announced the launch of SafeVac, a new solution for maximizing cannabis potency and quality, even under less-than-ideal vacuum-sealed conditions.
It serves as a direct replacement for traditional food-storage vacuum films, using Grove Bags' proprietary TerpLoc technology. Unlike traditional vacuum films designed for food, the company said SafeVac is specifically engineered for the unique physiology of cannabis.
"SafeVac represents a substantial improvement in how cultivators and processors can leverage the operational efficiencies of vacuum storage, and now while protecting their crop with TerpLoc Technology. I am as ever proud of our team and partners for yet again delivering a best in class solution to support an industry that's so important to us. We could not be more excited to introduce this product to the market and get in the hands of cultivators in the more than 70 countries around the world that cannabis is now cultivated in," said Jack Grover, Founder & CEO of Grove Bags.
SafeVac is engineered to ensure that cannabis flower remains in the most desirable state. This means cultivators can trust that their products will remain in peak condition from cure to consumption, all while in storage or transit without the hassle of having to burp bags or containers. This convenience saves time and effort, allowing cultivators to focus on what they do best. In addition, whether storing finished flower or processing fresh frozen product, SafeVac's unique barrier also allows for proper moisture distribution to prevent freezer burn.
Grove Bags is dedicated to providing the cannabis industry with technology-driven and tailored packaging solutions that protect product quality, streamline operations, and enhance the end-user experience. SafeVac is the latest addition to the company's product lineup, offering cannabis cultivators a tailored, vacuum-seal film solution for optimizing and preserving the quality and potency of their best flower.