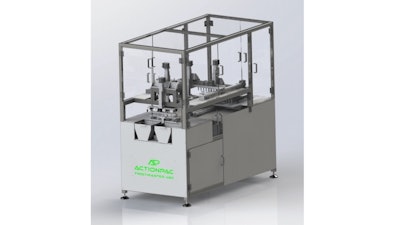 ActionPac
ActionPac yesterday introduced the new TwistMaster420 pre-roll twisting machine at MJBizCon in Las Vegas. According to the company, the TwistMaster420 is designed to mimic a hand-twisted pre-roll.
Additional features include:
The ability to twist up to 2,400 pre-rolls an hour.
A modular design that allows easy scalability and compatibility with the company's RollMaster420.
PLC-controlled servos which allow for a high precision twist despite the cone size.
Heavy-duty stainless steel and aluminum construction with food-grade materials.
Made in the U.S.A.
Free lifetime support.
The company also has plans to enter the consumable cannabis space and plans to release a new line of signature cones at MJBIZCon (Booth #10339). The cones have been specifically developed for the patent pending RollMaster420 System and are intended to be "automation friendly."
For more information, visit https://actionpacusa.com/.