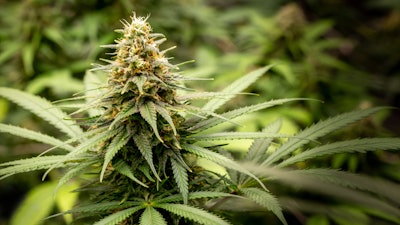 iStock
Purple City Labs, a plant molecular biology company developing germplasm and technologies for the management of breeding programs and nurseries, is rolling out a Reverse Transcription- Loop Mediated Isothermal Amplification (RT-LAMP) based assay for testing and surveillance of Hop Latent Viroid.
Hop Latent Viroid is the principal viral agent affecting cannabis plants, it has the propensity to spread quickly through a nursery via tools (and likely run-off and insect vectors). Infected plants often appear asymptomatic in a vegetative state only to show symptoms once flowering. It can cause catastrophic damage to a facility with cannabinoid levels and yields reduced by more than 30%.
The assay was custom developed for Purple City Genetics (PCG), a California cannabis breeding company, after they had a disappointing experience with outside testing labs.
"We spent hundreds of thousands of dollars collecting and sending samples to labs without being able to get ahead of this nasty pathogen. Finally we realized that what was available on the market was inappropriate for the problem at hand. We needed to test in-house, frequently with fast turnaround times. So we asked Purple City Labs to develop a test for us. Pretty swiftly we were able to cull sick plants, and after a few generations we have brought our mother block infection rates to zero," said Purple City Genetics' founder, Auryn McCafferty. The OnSight testing platform uses a crude sample preparation, which significantly cuts down cost and time compared to RT-PCR testing. A trained operator is able to test hundreds of samples with same-day results.
The current sensitivity of the molecular reaction, expected to increase in future versions, has been quantified at 375 copies of viroid per microliter. Purple City Labs conducted a number of proficiency tests comparing OnSight with six other commercially available assays, finding it to be as accurate.
"In the field of molecular diagnostics, whether it be Hop Latent Viroid in a nursery or SARS-CoV-2 in a human population, the epidemiological context of the pathogen dictates your testing paradigm. One size does not fit all. We designed OnSight to accommodate high-throughput, rapid testing at an affordable cost. We firmly believe that this approach is the only way for an operation with intensive production such as PCG to tackle and overcome this problem," said Ali Bektaş, co-founder and CEO of Purple City Labs.
Purple City Labs conducted a successful pilot study to test the feasibility of adapting the system in other facilities, and over a dozen nurseries, cultivators and labs in the US and Canada are early adopters.
"OnSight is an extremely easy and rapid test that has fixed many issues we have experienced when testing our cannabis plants for Hop Latent Viroid. It has removed countless delays and inefficiencies out of the testing equation and replaced them with quick and efficient ways to determine whether a plant is positive or negative for a viroid that spreads quickly in non-symptomatic plants. The program that OnSight offers has allowed us to create a much needed program to keep our facility free of issues and decrease in yield and potency," said Brent Barnes, VP of Breeding and Cultivation, Co-Founder, Claybourne Co.
The molecular assay is part of a package where PCL scientists advise customers on best practices in their facility, the appropriate equipment needed to run OnSight assays and provide comprehensive training to execute the assay.