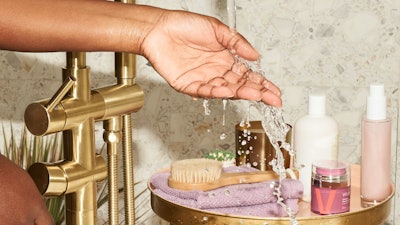 Vella
Vella Bioscience announced today that the Patent and Trademark Office (USPTO) has granted the brand's first patent. The patent is for the use of cannabinoids in treating antidepressant-induced female sexual dysfunction.
"Vella's ability to do pharmaceutical-like research inside the sexual wellness consumer space is on full display with the grant of our first patent, and we expect several more to come," said Vella Chief Executive Officer Nial DeMena. "Scientific innovation is Vella's x-factor and the wellspring of our many disruptive products and technologies we have now and have ahead of us. As a company, we bring a certain 'the future-is-now' attitude to women's sexual empowerment and pleasure that is wholly unique."
The invention relates to compositions and methods containing hemp and/or cannabis-derived cannabidiol (CBD) as well as combinations with other active topical agents in treating female sexual dysfunction from the use of selective serotonin reuptake inhibitors (SSRIs), serotonin/norepinephrine reuptake inhibitors (SNRIs), and other common antidepressants. Millions of women taking antidepressants discontinue treatment due to sexual side-effects, and that number continues to climb. Vella will form a wholly new pharmaceutical entity to now pursue an FDA-approved treatment.
Vella's proprietary encapsulated liposomal on-demand CBD technology serves to advance a product portfolio of radical innovations for enhancing function in women and strengthening the promise of sexual empowerment for all. The patent grant, however, will lay the foundation for the upcoming spin-out pharmaceutical company that will use novel active topical agents to create an on-demand treatment for antidepressant-induced sexual dysfunction through a traditional FDA pathway. Vella's patent establishes it as a pioneer in the clinical beauty space of female sexual health and wellness and proves its commitment to science and innovation.