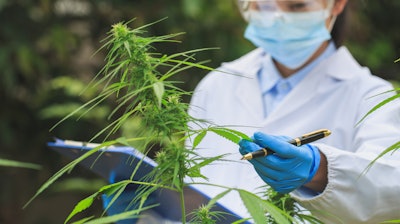 iStock
ACT Laboratories and SC Labs announced the Trust In Testing Certification, a set of enhanced national standards for cannabis testing.
As the largest cannabis testing labs in the U.S, testing thousands of cannabis brands, SC Labs and ACT Laboratories are jointly taking a stand for consumer safety by outlining the most stringent lab quality requirements to ensure brands and consumers can trust their lab testing data. The initiative will help cannabis operators unify their testing protocols across their multi-state footprints, enable brands to build consumer loyalty, maintain investor and customer confidence, and, ultimately, provide safer products to the growing cannabis market.
Through over two decades of combined experience, ACT and SC have evaluated the lab regulatory standards across all states that have legalized cannabis today, and combined the most sensible and stringent quality standards to develop the Trust In Testing Certification. This includes more frequent and regular proficiency testing, use of state-of-the-art quality management systems, and internal employee ethics and training programs, among other requirements. These standards ensure that labs are not only compliant with state regulations but are continuously raising the bar to provide partner brands and consumers with the most accurate and reliable results. This Certification is the lab's burden to maintain for the benefit of brands, the end consumer, and ultimately the legal cannabis market at large. Brands that utilize a Trust in Testing Certified lab are allowed to put the Trust In Testing seal on their packaging, communicating to end consumers their commitment to quality.
Cannabis brands are increasingly being asked by investors and other stakeholders about the controls employed by the labs testing their product. The Trust In Testing program is designed to address these concerns by enabling partners to respond to these inquiries by providing evidence of the enhanced standards used by their labs, lowering the risk of business interruption due to state regulatory action and damaging lawsuits when using a low-quality testing partner.
SC and ACT Laboratories are the founding participating labs in the Trust In Testing Certification. Cannabis brands that want to demonstrate their commitment to quality and providing accurate and reliable data may use the Trust in Testing seal on products that have been tested by a Trust in Testing Certified Lab. Similar to the "Certified Organic" seal commonly seen in the produce aisle, the Trust in Testing seal provides a simple way for cannabis consumers to feel confident that the products they are purchasing and consuming have successfully passed all potency and contaminant testing requirements.