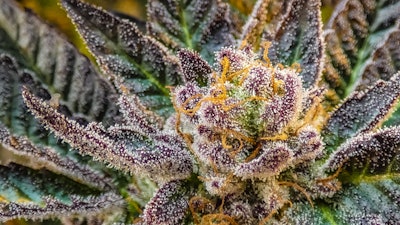 iStock
Trichome Analytical has licensed cannabis analytical data tool PhytoFacts to offer clients a more complete profile and better understanding of their tested cannabis. The New Jersey-based lab is the first on the East Coast to adopt the cannabis visualization technology that provides a visual profile of each cannabis sample's chemical makeup and anticipated effects.
Chemometric characterizations will give Trichome Analytical's clients far more information than vague sativa or indica designations, and offer insights into how terpenes and cannabinoids in cultivars can affect consumer experiences more than just the standard THC level readings. The powerful tool also welcomes phyto-hunting for unique cannabinoid and terpene groupings, as well as plant composition and consistency analysis for progeny and clones.
"With PhytoFacts we can make a positive impact on how cannabis is understood at all levels of the supply chain," said Kristen Goedde, Founder and COO of Trichome Analytical. "Growers can better manage their specific cultivar production and consumers and patients will have an intuitive guide to find strains that match their needs."
The system's algorithm incorporates objective and subjective data points related to organoleptic characterization combined with data culled from scientific publications related to psychological and physiological effects of cannabinoids, terpenoids and cannabinoid-terpenoid combinations. By integrating PhytoFacts into their testing reports, Trichome Analytical will educate cultivators and—by extension—consumers about how to use the intuitive data visualizations and experiential insights across the complete chemical profile of cannabis flowers and concentrates.
The PhytoFacts report is the best way to visualize the complex chemistry of cannabis, said Dr. Mark A. Lewis, President of PhytoFacts parent company Napro Research. "Laboratories with validated procedures and high integrity standards—like Trichome Analytical—are leading the charge to create meaningful standards in our maturing marketplace. The cannabis experience is much more than a THC percentage, and enabling product manufacturers and consumers to distinguish between various products' anticipated effects in a meaningful, science-based way with PhytoFacts is critical to advancing consumer education, facilitating product affinity, and expanding the cannabis marketplace."