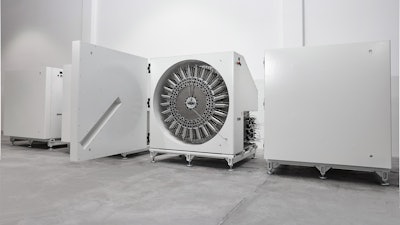 RotaChrom
Based in Hungary, RotaChrom Technologies is known for creating the world's first industrial-scale centrifugal partition chromatography (CPC) technology platform.
The company, which also has an office in Irvine, California, has seen substantial growth recently by setting the standard for cannabinoid purification.
I recently had the opportunity to interview Mario Nacsa, CPC application specialist at RotaChrom, to discuss the launch of the company's new pilot-scale CPC, how cannabis labs can use it and the current landscape for cannabis labs, which he describes at "a rollercoaster planted in the middle of a minefield."
David Mantey: How can cannabis labs use the rCPC platform?
Mario Nacsa: The rCPC platform is ideal for method and process development purposes. End-users can not only develop and optimize their methods on this instrument, but once the ideal method is identified, the very same instrument can be used in continuous batch mode to purify target compounds, according to customer specifications in larger quantities. The platform is considered to be very versatile and can be used for an extremely wide array of applications, without the limitation known in conventional column chromatography.
Mantey: Was the system developed to address any current needs in the cannabis industry?
Nacsa: Partition chromatography, as a type of liquid-liquid chromatographic separation, is an extremely powerful tool to process/purify extracts with natural origin, such as hemp or cannabis-related interim products. CPC and related methods are constantly being developed by RotaChrom's scientific team to deliver solutions for isolation/remediation and fractionation projects. The cannabinoid industry has constantly evolved and shifted focus, from simple CBD isolation towards complex isomer separation and minor isolations with low abundance. RotaChrom also developed an integrated solvent regeneration solution, which helps clients further optimize running costs.
Mantey: Can the average worker use the platform or is it only accessible via qualified personnel?
Nacsa: The system is designed in a way that so-called loop methods can be plugged into the software prior to operation and, after basic training, technicians can run the platform autonomously. Furthermore, cGMP compliant software even defines the level of access according to 21 CFR part 11 recommendations [meeting the FDA's guidance on digital records].
The system requires minimum attention during operation, which mainly focuses on the sample preparation and taking care of the fractions collected. Other than these steps, a qualified person is only required if additional methods need to be developed and deployed.
Mantey: What does the training and maintenance include?
Nacsa: RotaChrom provides extensive on-site training and tailor-made method development assistance, once the instrument has been commissioned. It is our company policy that we provide guidance not only during the generic instrument orientation, but also putting significant effort into educating the client on the relevant methodology that helps to be successful in the long run.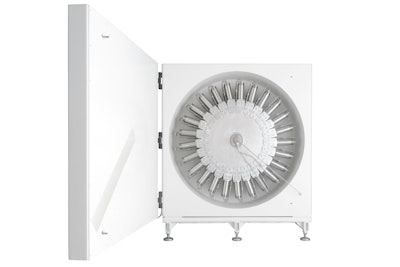 Mantey: How would you describe the current landscape for cannabis labs?
Nacsa: The best would be to describe it as a rollercoaster planted in the middle of a minefield. On a more serious note, this industry was revived after the Hemp Bill was introduced. Apart from the pronounced direction of the recreational space, the identification and analysis of potential pharmaceutical ingredients, including and beyond phytocannabinoids, are a constant subject of interest. The reason is simple, these ingredients have proven benefits, but in order to really make a relevant impact on the pharmaceutical industry, a lot more investigation and testing needs to be conducted. Clinical trials and other larger scale test programs, however, require well-defined quality and larger quantities. These can be only delivered with preparative scale instruments, while these instruments require at-line analytical capabilities.
Mantey: How can cannabis operators make sure they are buying equipment that is a right fit for their business?
Nacsa: There are many questions that come with selecting and using the most adequate technology for a user's needs. Sometimes, a simplified technique, such as crystallization would be the proper approach to use, but suppliers still push clients towards more elaborate and expensive technologies.
Over the last two years, the industry has cooled down and a lot of "players" disappeared from the market, resulting in a much more digestible landscape. RotaChrom always defined chromatography as a very expensive technology and we always look at customer need from the perspective of their entire process. We always try to look beyond our technology and advise on adjacent technologies and proposed ideas to minimize CAPEX and OPEX, even when the result shows that our technology might not be the most sensible solution.
I believe that simulating and predicting the operation has its potential for future clients to mitigate and reduce risk, hence we developed programs where clients can send their samples with the target requirement and we can confirm the technical aspects as well as the financial aspects of the future project.
Investing in technologies, especially in the cannabinoid space where often the end-user might not have the necessary skills or education background can often cause misunderstanding and investments with great dissatisfaction. To avoid such a situation, having a list of questions, request for comparisons for performance and cost are recommended, independently of the target.
Mario Nacsa obtained his bachelor's degree in chemical engineering and master's degree in pharmaceutical sciences. Nacsa started working for RotaChrom Technologies in 2019 as a chemist. Last year, he joined the North American branch of the company and became an application specialist solving challenging separation techniques of chemical compounds.