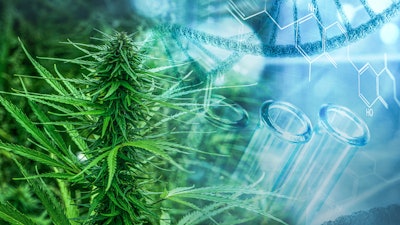 iStock
Nova Analytic Labs yesterday announced the results of a new legal cannabis testing study in the State of Maine, quantifying an average pesticide failure rate in legal medical and adult-use cannabis, as well as which pesticides were found most in testing samples (view results below). The results found dangerous levels of pesticides, including Myclobutanil, which can produce life-threatening fumes such as cyanide and carbon monoxide, posing serious public health concerns.
In Nova's study of some 3,200 adult-use compliance samples and some 1,400 voluntary/medical samples between March 2022 and June 2023, a failure rate of 3.82% in adult-use samples and a staggering 20.73% failure rate in voluntary/medical samples was observed.
The top five pesticide failures for these voluntary/medical samples were:
Myclobutanil (Eagle 20): Can cause serious eye irritation and is suspected of causing cancer and damaging fertility or the unborn child; may cause damage to organs, especially the liver, through prolonged or repeated exposure if swallowed. When you heat myclobutanil to combustion, the pesticide decomposes to produce corrosive and/or toxic fumes, including carbon monoxide and cyanide.
Piperonyl butoxide: Known to cause mild itching, burning or stinging; mild skin rash, numbness or tingly feeling.
Bifenthrin: Humans exposed to bifenthrin report mild effects such as skin tingling or eye irritation. In studies conducted on lab animals, exposure to high levels was shown to affect the nervous system, causing tremors.
Bifenazate: Low acute toxicity by all routes of exposure (Category IV) with no evidence of dermal sensitization potential. It is non-irritating to skin and minimally irritating to eyes.
Imidacloprid: High oral exposures may lead to lethargy, vomiting, diarrhea, salivation, muscle weakness and ataxia, all indicative of imidacloprid's action on nicotinic receptors. Other signs of exposure at high doses are uncoordinated gait, tremors and reduced activity.
As of January 2023, all adult-use cannabis in Maine must pass mandatory safety testing before it is manufactured into a cannabis product or transferred to a dispensary for sale to consumers. Any adult-use cannabis or product that fails pesticide testing must, by law, be destroyed, thereby preventing unsafe products from entering the market.
However, the state does not require medical cannabis to be tested for any contaminants, including pesticides. This means that if voluntarily tested or medical cannabis fails the testing standards under adult-use program rules, it can still be sold to a patient.
Out of the 3,200 adult-use cannabis samples required under Maine law to be tested, only a 3.82% failure rate was documented – the top five pesticide failures for adult use samples were piperonyl butoxide, bifenthrin, spinosad, imidacloprid and pyrethrins.
"Our results show a ~17% failure rate discrepancy between the state-required adult-use samples and the voluntary/medical samples submitted for pesticide testing," said Nova CEO and co-founder Christopher Altomare, in a statement. "Most likely, the discrepancy is even higher, given that operators voluntarily testing their products are good actors taking precautions to protect consumers. If someone knowingly has pesticide contamination, they may not test. Our findings highlight that testing the final product is the only way to ensure safety – even if no pesticide is purposefully applied by an operator, pesticides in the environment often contaminate harvests at harmful levels (this is commonly due to raw material input).
"Looking at the top failures, the health risks are clear, and with ~106,000 cardholding medical patients, the high failure rate demonstrates a major public health concern. If you are purchasing cannabis outside of the adult-use program, there's a chance you're consuming harmful pesticides. The state does not track failures in medical cannabis and it is unclear where this failed product ends up in the industry."
Nova offers free pesticide testing for patients and consumers with untested cannabis products who are concerned about pesticide contamination. A two gram minimum of sample product is required.
Nova was the first cannabis testing lab to be fully certified for testing the list of mandatory pesticides in the State of Maine. The company was the first to pass standards set by the Maine Office of Cannabis Policy and Centers for Disease Control and Prevention, as well as the first to be accredited by ISO 17025 for this complicated analysis.