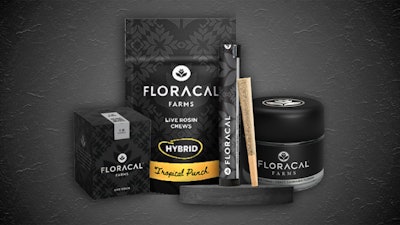 Cresco Labs
Cresco Labs today announced the expansion of its brand portfolio in Florida to include the FloraCal and Cresco brands. The company will roll out FloraCal flower, pre-rolls, live rosin concentrates and live rosin chews as well as Cresco flower and pre-rolls at Sunnyside dispensaries starting next week and throughout the fall.
One of the first cannabis brands to launch in California with numerous products, FloraCal is the premium brand in the company's portfolio created for cannabis connoisseurs. Cultivation starts with a rigorous pheno-hunting process that starts with hundreds of seeds and ends with FloraCal releasing only the highest quality strains in the products found today in California, Illinois, Pennsylvania, Massachusetts and Florida.
Cresco is sold in California, Arizona, Illinois, Michigan, Ohio, Maryland, Pennsylvania, Massachusetts and Florida. The premium brand offers one of the largest libraries of strains and widest assortments of forms in the Company's brand portfolio, ranging from flower and pre-rolls to concentrates and vapes. In Florida, Cresco is replacing One Plant, offering the same flower strains that patients love, in addition to a suite of new ones.