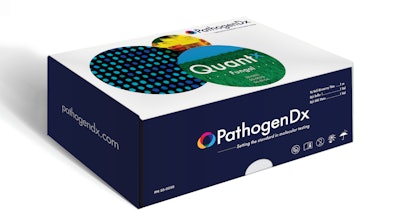 PathogenDx today announced the launch of a new and improved rapid semi-quantification assay, QuantX Fungal, which has received an AOAC Performance Tested Methods (PTM) SM Certificate to semi-quantify fungal species in total yeast and mold (TYM) for cannabis flower.
Quantx Fungal joins the company's suite of cannabis testing technologies, including Quantx Bacterial and Detectx Combined, bringing the latest assays onto PathogenDx's automated sample preparation system, Octa AutoPrep Station (Octa), and increasing testing throughput, and improving operational and cost efficiencies for testing labs.
Using a one-step end-point PCR format with automated sample preparation, QuantX Fungal offers unmatched speed when compared to traditional tests, delivering results in eight hours, instead of the standard 72 to 120 hours using growth-based platforms.
With just one sample, which can be prepared manually or through PathogenDx's Octa platform, labs can run every test under PathogenDx's catalog in tandem. The new capability simplifies lab workflow, streamlines the number of platforms and saves lab-technicians hands-on time — especially those in states that require both detection of pathogen species and quantitation.
"With this launch, we are not just reducing the potential for manual error, we are bringing the cannabis sector closer to the level of efficacy and standardization required of labs in mainstream industries. We are delivering unrivaled analytical ease for labs and dramatically simplifying quantification for multistate operators, ensuring that regardless of the regulatory differences, labs can meet every state's testing and compliance requirements," said PathogenDx Co-founder and CEO, Milan Patel.
Podcast: Milan Patel: We Are at War with Pathogens https://www.cannabisequipmentnews.com/video/video/22080795/milan-patel-we-are-at-war-with-pathogens
With the dynamic range extended from 1,000 to 100,000 CFU/gram, and triplicate testing of yeast, mold and fungal species all in one test, QuantX Fungal rapidly and accurately quantifies the Total Yeast & Mold responsible for the vast majority of fungal outbreaks.
In addition, Quantx-Fungal has a built-in capability of discriminating which twelve (12) different cannabis fungal species - Candida Albicans, Golovinomyces, Botrytis, Cladosporium, Penicillium, Saccharomyces Alternaria, and five specific species of Aspergillus (A. fumigatus, A.flavus, A.niger, and A. terreus, A. Nidulans) are contributing to high levels of Yeast & Mold values. This will help labs provide more meaningful information to their customers on the grow and cultivation side.
"Given the challenges the cannabis testing sector has seen with long turn-around times - especially for Total Yeast & Mold, which can extend out to 3-5 days - QuantX Fungal is a breakthrough test that can be processed off one platform to help labs deliver accurate, expedited results to their customers while driving efficiency and reducing labor, consumables and capital costs to labs," Patel adds.