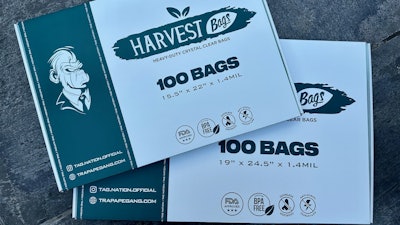 Tag Nation
TAG Nation, a manufacturer of ancillary products for the cannabis industry, today announced a partnership with AirGrean to be the exclusive distribution partner of TAG Harvest Bags nationwide. As one of the leading HVAC and climate control solutions in the cannabis sector, AirGrean will play a vital role in TAG Nation's expansion throughout North America.
TAG Harvest Bags are specifically engineered to protect cannabis harvests. Using a proprietary new material called TAG Armor, TAG Harvest Bags are clear like glass to best showcase the flower, while also being 30% thicker than traditional turkey bags. This ensures the highest barrier on the market, safeguarding against external conditions. TAG Harvest Bags are resistant to punctures and tears, and have anti-static properties to help preserve trichome structures. TAG Armor is FDA approved, BPA Free and anti-static.
Launched at MJ Bizcon in 2022, TAG Harvest Bags have exploded on the southern California wholesale cannabis market with clients such as Maven Genetics, Clade9, 818 Brands, Kush Alley and Source Cannabis.