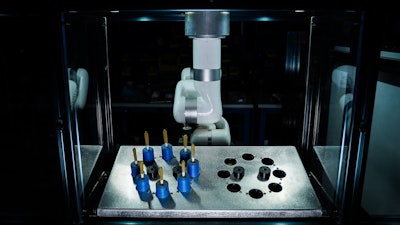 Sorting Robotics
Sorting Robotics, a provider of industrial automation solutions for the cannabis industry, announced the launch of Stardust, what it's calling the world's first automated kief coating robot. In response to the escalating demand for precision and efficiency in the production of 'fuzzy' style joints, blunts, and straight-tube pre-rolls, Stardust is designed and engineered to bring automation and consistency to this specialized segment.
"We're excited to introduce Stardust, the world's first automated kief coating robot, to the cannabis industry. Stardust is a testament to Sorting Robotics' commitment to pushing the boundaries of innovation, and providing cutting-edge solutions to meet the evolving needs of the market," said Nohtal Partansky, Co-Founder & CEO of Sorting Robotics.
Stardust features an array of features and high throughput. It can process up to 960 joints per hour and its single-operator design not only streamlines operations, but also minimizes labor costs.
Stardust caters to all pre-roll sizes, accommodating cones, straight tubes, and blunts. The robot's broad formulation compatibility allows it to handle distillate, fully decarbed concentrates, Cigar Glue, and simple water formulations. It offers diverse coating options such as Dry Sift Kief, Bubble Hash, crushed THCa Diamonds, or powdered cannabis.