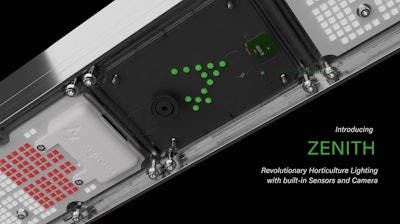 Agnetix
Agnetix (San Diego, CA) has debuted Zenith, a new grow lighting series with built-in sensor and imaging technologies. Zenith has integrated plant health sensors and canopy imaging cameras within a water-cooled system. Features include:
IR Remote Leaf Temperature Sensor: Provides temperature, humidity, and vapor pressure deficit (VPD) data.
Reflected Canopy Light Intensity & Color Sensor: Precise lighting adjustments.
Canopy Distance & Growth Sensor: Tracks plant progress and growth rates.
Green LED inspection: Safely illuminate the grow room for "night" inspections.
Later this year, Zenith will include a camera that will provide closeup plant images to detect deficiencies and pests and advanced multi-wavelength LED flash and illuminator with UV and IR inspection capabilities.
Agnetix also launched Harmony, an environmental sensor that connects to Zenith to offer canopy-level measurement of air temperature, humidity, and CO2.
All information can be fed into the Agnetix HMI dashboard to provide manual and automated analysis.
For more information, visit www.agnetix.com.