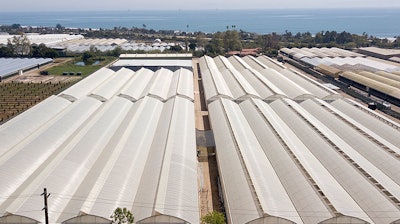 Glass House Group
Glass House Group has begun work on a new glass roof system at its 350,000 square-foot Padaro greenhouse in California.
The new DYNAGLAS panel roof is designed to allow more natural light to pass through, improving yield and product quality without increasing its carbon footprint or operational costs.
The project is scheduled to be completed in Q3 2021 and could reduce the energy required to produce each pound of flower by some 20%.
Since 2015, Glass House's greenhouse facilities have been designed to integrate precision agriculture techniques, water recapture, and filtration and recycling systems. The company also has integrated pest management practices (IPM) that use biological methods of controlling insects as opposed to pesticides.
"As demand for high-quality cannabis continues to climb, we are constantly searching for innovative cultivation techniques that allow us to expand our output while being as efficient and sustainable as possible," said Graham Farrar, President of Glass House Group.
Glass House recently entered a definitive agreement to be acquired by Mercer Park Brand Acquisition Corp. The deal should close in the first half of 2021.