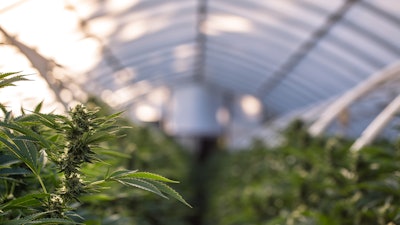 iStock
Save Foods, an agri-food tech company specializing in eco crop protection, today said preliminary results from a third-party trial of its eco crop protection treatment demonstrating up to 90% reduction of pathogens in cannabis flowers. Risk of contamination is present at every stage of the cultivation process. Beyond the health of the plant itself, both medical patients and adult-use consumers can be adversely affected by microbial contaminants. Pathogen contaminants pose a health risk and product recalls can cost companies millions of dollars in profit loss and civil damages.
"The ability of Save Foods' treatment to reduce disease development on cannabis is an exciting development with great potential, especially considering the limited availability of synthetic fungicides," said Dan Sztybel, CEO of Save Foods' Israeli subsidiary. "Currently, irradiation is widely used to minimize mold growth, however it significantly increases the cost of production, is not permitted for organic producers, and any possible effects on the organoleptic properties of the product still need to be assessed. "Our treatment to combat pathogens is a great alternative for producers and it ensures that consumer safety always remains a top priority without the potential of pesticide-related environmental or health risks."
In a trial performed by a third party, Save Foods' treatments were applied to 10 plants from two cannabis strains grown in a greenhouse over the cultivation period. The treated plants had approximately 75% to 90% lower inflorescences disease development compared to untreated plants with no impact on the organoleptic properties observed.