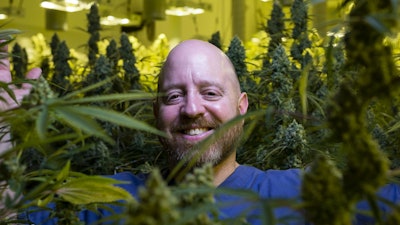 Cannabis Community College
Cannabis Community College, an online cannabis education platform, announces the addition of Evan Marder as Professor of Cultivation for the Cultivation Essentials course. Part of the recently launched 5 Course Essentials Bundle, the curriculum offers a 360 degree view of the cannabis life cycle.
"We are beyond thrilled to welcome Evan to our team of expert instructors," said Christi McAdams, CCC Chairman. "We strive to bring the best the industry has to offer to our students. Evan is truly a top-notch grower and operator. We couldn't be luckier to have him on our team."
To promote Marder and his courses, CCC is offering a virtual tour of his commercial cultivation facility in Las Vegas, NV to anyone who registers: https://cannabiscommunitycollege.com/mk/cultivation-virtual-tour/
As a veteran grower, President of Fleur Cannabis and Evergreen Organix, and owner of Redram Consulting, Marder brings with him unparalleled knowledge and experience that promises to be of value to CCC students.
Marder's course covers a wide variety of relevant topics, preparing students for a range of jobs within the industry from seed-to-sale. Modules include:
Introduction to cultivation facilities
Let's talk plants!
Pest control
Personal protection equipment
Trimming
Order fulfillment
Lab testing
The Cultivation Essentials training course is accessible on its own or as part of the larger 5 Course Essentials Bundle. The package currently has an introductory rate of $270, providing high-value education at a fraction of the cost of traditional coursework. Scholarships and payment plans are available for those in need.