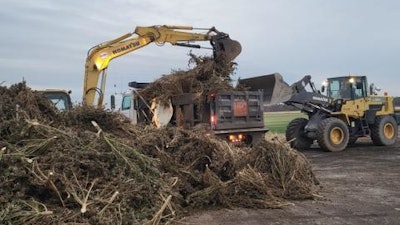 Office of Oklahoma Attorney General
The Attorney General's Organized Crime Task Force (OCTF) last week seized more than 36 tons of illegal marijuana in searches conducted in Wagoner County and Lincoln County. Attorney General Gentner Drummond established the task force earlier this year to combat Oklahoma's many illegal marijuana operations.
On Nov. 9, the task force executed a search warrant on a Wagoner County business where agents found more than 72,000 pounds of black-market marijuana inside a metal barn. Assisting in the seizure were Homeland Security Investigations (HSI), the Oklahoma Medical Marijuana Authority (OMMA), the Wagoner County Sheriff's Office, Wagoner County Commissioners and the Wagoner County Emergency Management office.
The seizure is among the largest in state history.
"The collaboration with our law enforcement partners across Oklahoma is vital to the public safety of our communities," said Robert Melton, assistant special agent in charge for HSI Dallas' Oklahoma and Texas Panhandle Division. "Operations like these led by the OCTF help curtail the spread of other nefarious activities such as human trafficking and money laundering that often lead to even more dangerous transnational crime."
Later that same day, the OCTF assisted OMMA in the inspection of a Lincoln County medical marijuana grow operation. Agents found an amount of untagged, and therefore untraceable, marijuana in a car on the premises. That discovery led to the execution of another search warrant that yielded 250 pounds of illegal marijuana. The Lincoln County Sheriff's Office assisted the task force and OMMA in execution of the search warrant.
The newly formed Organized Crime Task Force works closely with federal, state, county and local law enforcement agencies to investigate crimes related to illegal marijuana grow operations, including human trafficking and the distribution of deadly drugs such as fentanyl.