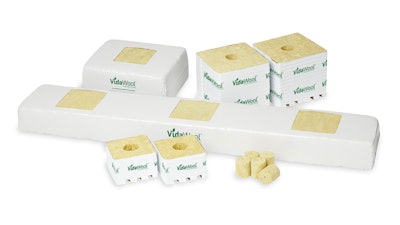 VidaWool
VidaWool today announced a distribution agreement with Hawthorne Gardening Company, a vertically integrated direct seller serving North America's licensed producers and hydroponics retail sector. The agreement opens the door for VidaWool growing media to be sold through the Hawthorne Gardening Company's retailer network which includes hundreds of locations throughout the U.S.
Manufactured in North America, VidaWool mineral wool growing media is engineered to support consistent, predictable and repeatable harvests. VidaWool plugs, blocks and slabs are designed to optimize nutrient distribution throughout the plant and are rooted in more than a half-century of mineral wool and rock wool research.
Decades of research have demonstrated that the versatility of mineral wool is well-suited to deliver a wide range of performance attributes in horticultural applications ranging from hydroponic to hydrophobic.
As growers are increasingly interested in the environmental footprint of their crops, the commitment to meet their needs continues. Every product in the VidaWool growing media portfolio contains 70% recycled content, according to the company.
The VidaWool team will be at Booth# 39002 during MJBizCon from Nov. 29-Dec. 1 in Las Vegas.
For more information, visit https://www.owenscorning.com/en-us/vidawool.