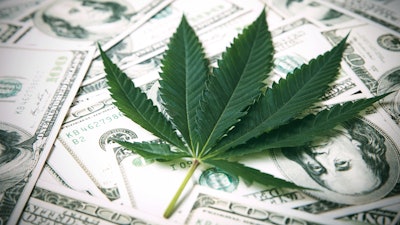 iStock
The Wisconsin Cannabis Expo returned to Milwaukee after a pandemic hiatus with 85 exhibitors and six panels. One of the panels, "How Can I Make Money in this Current Cannabis Game," featured three entrepreneurs in the cannabis industry who discussed how to apply for licenses; what to avoid when starting in the industry; and the importance of branding.
Nic Easley, the founder and acting CEO of 3C Consulting, discussed applying for licenses and called the cannabis industry the largest agricultural commodity in the history of the world.
"I don't care if you're blue or red; everyone likes green at the end of the day when it comes to capital investments," Easley said. "I think in the United States alone, we're over 550,000 legal jobs."
Easley stressed the importance of knowing the rules "to play the game," which means understanding the laws of every state, county and city.
When no rules are present (and cannabis prohibition remains), Easley's message was simple, "write your own." This entails finding sponsors of past failed bills and learning how to help them get passed.
Understanding the business models, having a competent team and knowing the cost to enter the industry also plays a role.
"It's all about your team," Easley said. You have to have compliance and security and people that know financials. Also, you have to understand this is federally illegal. You have to have property management companies, IP brand licensing companies [and] operational companies."
In the quest to get licensed, Easley emphasized to never go to a city that doesn't want a cannabis business – never bet on externalities in the space. Had he known the industry revolved around real estate, he said he'd be "a quadruple billionaire."
Easley closed his portion of the discussion with an important statistic: despite managing billions of assets, his company is at approximately a 10% to 15% profit margin.
"We do lots of revenue, but at the end of the day, there's not a lot in your pocket," Easley said. "But ancillary, real estate, property companies, packaging; everything you can do in the normal world, this industry needs."
Anthony Perrine, a partner at Transcend Cannabis, has owned a trucking company, a salon and spa and currently operates Lou Perrine's Gas and Groceries in Kenosha, Wisconsin. Often echoing Easley's comments on location, Perrine laid the groundwork for what not to do when starting in the cannabis game.
Perrine and his business partners didn't own the real estate when they began in cannabis. They elected to rent and decided to pay any amount – they figured they were in line to make significant money.
"We didn't realize there were so many other factors that were going to occur," Perrine said. "Whatever you pay in the normal business environment, plan to pay double in the cannabis environment because everybody thinks you're making so much money. They don't realize all these nuts and bolts that go along with the business."
Perrine's second mistake was following a master grower. Perrine said he and his partners spent extra capital setting up the grow rooms to meet the grower's standard and eventually realized they wasted real estate, build-out costs and paid double-to-triple in gas and electric costs.
Perrine admitted that anyone with years of growing knowledge likely attained it illegally.
"If you [have] 10 to 20 years of experience, you're a criminal," Perrine said. "We blindly followed this clown and realized that he didn't know [expletive]. He was using old lighting systems; some joke archaic system that affected our bottom line. Our electric bill was triple what it should be."
Touching on real estate once again, Perrine recommended establishing a border location and doing so early. He told a story of a colleague who owns a Michigan dispensary located approximately 15 minutes north of the University of Notre Dame in Indiana, where recreational marijuana use is illegal. Perrine described this colleague as one of the wealthiest in the Michigan cannabis business.
Businesses also need to prepare for price compression and raise enough capital to have a deep war chest. Perrine said the most successful businesses were vertically integrated, meaning they grew, processed and sold their product.
The black market must also be accounted for, which Perrine considers the most significant competitor.
"They don't have to go through the testing, the regulation, the licensing, the payroll taxes and all of these things," Perrine said. "If you're a cannabis consumer, it's easier to call your guy that you dealt with for 10 years than it is to go and wait in line at a dispensary."
The final speaker at the panel, Colin Plant, owner of Canni Hemp in Milwaukee, explored the importance of branding.
Marketing cannabis can prove tricky with the numerous legalities. While some mediums, such as billboards or radio appearances operate within the rules, other areas, like social media can lead to pages getting flagged and shut down.
Plant highlighted the importance of possessing a solid website and getting influencers to advocate for a product, but he especially drew attention to finding an identity.
"How is it different from the competition?" Plant said. "Everybody's saying the same thing. I've got the best product. Nobody cares. Who are you talking to? How are you saying that message?
"It's not just retail, it's not just cultivation, it's not just processing. There are so many ancillary businesses that you can get involved with."
According to the National Cannabis Industry Association, laws to make cannabis legal for adults have passed in 18 states as well as the District of Columbia and the territories of CNMI and Guam, and 36 states as well as several territories have comprehensive medical cannabis laws. The substance is legal in some form in 47 states.