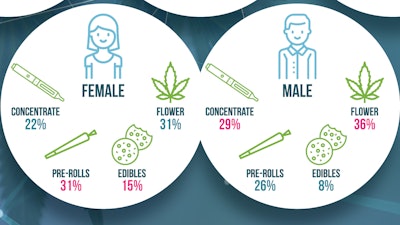 New data released by POSaBIT, a financial technology and POS provider serving cannabis retailers, says that cannabis retailers can expect huge sales on 4/20, the annual weed smoking celebration (infographic below).
The company analyzed transactions in 2018 across Washington, Colorado and California and found that dispensaries saw more than a 91 percent increase in customers on 4/20 last year -- and a 22 percent rise in average transaction value.
POSaBIT also released some demographic and usage data for the industry:
Millennials are over 30 percent more likely to buy concentrates than other demographic groups.
Baby Boomers show a buying preference for flowers and pre-rolls .
Consumers aged 65+ prefer edibles more than any other age group .
Paraphernalia purchases are minimal across all ages as consumers opt for concentrates, edibles, topicals, and pre-rolls .
"It is essential for these new businesses to understand consumer preferences and purchasing trends, just as it is for traditional retailers," said POSaBIT Co-founder and CEO Ryan Hamlin in a statement. "And with the industry's largely anonymous nature, there aren't many sources serving this data to business owners within the seed-to-sale pipeline. We're able to draw critical insights from the data we gather that will help the industry mature and take advantage of the massive opportunity in front of it."