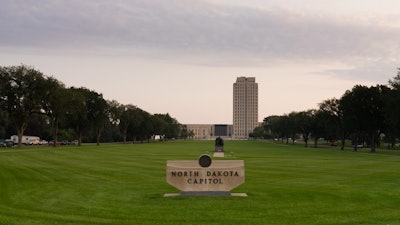 BISMARCK, N.D. (AP) — The first medical marijuana dispensary in central North Dakota is open for business.
About 15 people visited the dispensary during the first hour it opened in Bismarck Tuesday. Erin Olander, 34, of Hazen, said she wanted to be one of the first customers of Harvest of Bismarck.
Olander has spinal stenosis and other chronic back problems, as well as arthritis and began taking prescription pain pills about three years ago. Her goal is to stop taking the 27 pills she takes each day.
"I needed to get off them, and I knew that," Olander said. She considers medical marijuana a safer alternative to prescription medication.
"It really does help. It's really a medicine; it's not just Cheech and Chong," she said, referring to the comedians whose acts center around the recreational marijuana culture.
Ben Hecht, general manager of Harvest, tells the Bismarck Tribune the dispensary sells everything that's available under state law, including oil, flowers and topical lotion.
And while Harvest is a for-profit business, Hecht said the company's goal also is to inform patients and the public about medical marijuana.
"The biggest thing is how important for us to have the opportunity to educate and engage the community," he said. "We want people to know what we're doing and why we're doing it, and really just help demystify and debunk a lot of the stigma" involving medical marijuana.
The Harvest waiting room is where a staff member will take a patient's state-issued ID and medical marijuana card. Only qualified patients and caregivers are allowed behind a secured door where the sales floor is located.
The Bismarck shop is one of four operating in North Dakota since voters approved medical marijuana in November 2016. Dispensaries have opened in Fargo, Grand Forks and Williston. They also are planned in Dickinson, Minot, Jamestown and Devils Lake.
The state expects as many as 4,000 residents will legally be using medical marijuana by next summer.