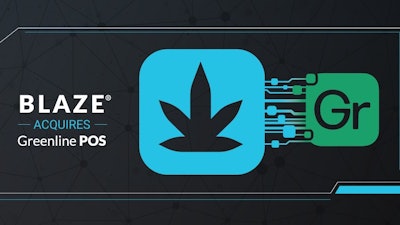 Business Wire
Cannabis technology company Blaze Solutions has acquired Vancouver-based dispensary POS software company Greenline, making it one of the few cannabis operations software systems in both Canada and the U.S. The company said the acquisition allows it to better serve its international clients, while also enabling the it to gain experience operating in Canada's federally regulated marketplace.
"Acquiring Greenline adds value to prospective clients by giving them the ability to expand their footprint into the U.S. or Canada using the same software provider," said Blaze CEO Chris Violas. "This is essential for increasingly sophisticated cannabis retailers in states near the border like Washington, Illinois, Michigan, New York, Massachusetts and Maine."
The acquisition of Greenline provides an added benefit for Blaze clients looking to expand their reach into a new market using the existing platform, while additionally providing Greenline operators the benefit of Blaze's compliance-focused operations software.
Blaze said it will roll out this acquisition gradually over the next six months. Both Blaze and Greenline will retain their current organizational structures and respective C-level leadership. Greenline's Canadian retailers should not expect to see any immediate changes with this acquisition but can expect to see increased innovation moving forward as part of the Blaze family.