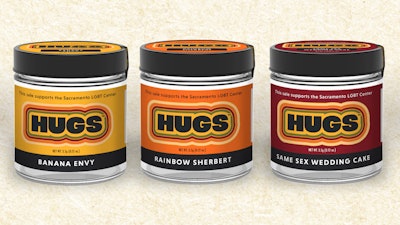 PRNewswire
Hugs, a new cannabis retail brand under MWG Holdings Group, is launching its first products during PRIDE month. As part of the launch, the brand is donating $1 from every HUGS 3.5g jar sold in June to the Sacramento LGBT Community Center.
The Hugs brand debuts with its first three limited-edition indoor flower strains named Rainbow Sherbet, Same-Sex Wedding Cake and Banana Envy. Each strain is available in full 1g pre-rolls and 3.5g jars in dispensaries throughout California.
The Hugs Pride-focused strains were cultivated from Fireworx Farms, MWG's Sacramento grow. Hugs cannabis launches in June with PRIDE SKUs for a reason.