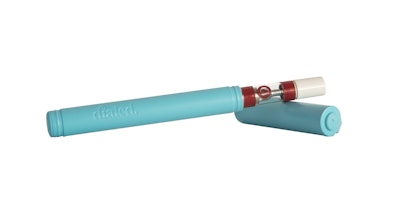 dialed.
dialed. today announced the launch and operation of its cannabis company in Ohio and Michigan. The company will offer an array of cannabis products starting with two separate lines of vape cartridges: one containing high-terpene live resin sauce and the other a live resin THCa diamond cartridge. These will be sold alongside the high-lighter 510 thread universal vape battery, which emulates an everyday highlighter for discerning consumption and clean storage.
Founded in 2020, dialed. brings new, functional, and truly effect-based cannabis products to patients and consumers in the Great Lakes Region. After two years of research and development in collaboration with firms from California, Colorado, and Israel, dialed. is launching its cartridges in blends of selected cultivars. Combining properties of these complementary genetics enables the company to better curate the patients' and consumers' experience. As a company with roots that stretch back to the caregiver days of plant medicine, it boasts the rare distinction of providing vape hardware that is emissions tested and certified, under AFNOR standards.
The high-lighter vape battery will be sold nationally and on their website in brand colors. It's compatible with any 510 thread cartridge, is rechargeable, and includes a micro-USB cord for charing. The cap fits over either 1ml or 0.5ml cartridges for secure discretion and clean storage. Calibrated best for the terpene heavy pulls of live resin, the battery functions seamlessly, no matter the concentration or viscosity.
The compatible vape cartridges will be available anywhere Eaze delivers in-state and at these select dispensaries in Ohio: Amplify, The Forest, Harvest of Ohio, Pure Ohio Wellness, Rise; and this July in Michigan: Compassionate Care By Design, Michigan Supply & Provisions, and Sozo.