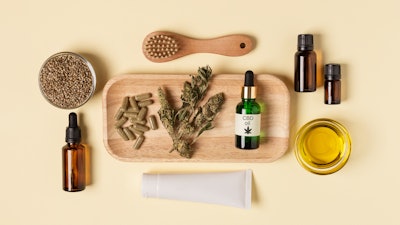 iStock
Radicle Science, a healthtech company conducting large scale clinical trials on health and wellness products, announced the results of what it's calling history's largest cannabinoid clinical trial on pain, in partnership with Open Book Extracts (OBX).
All formulations in the pain study on Cannabidiol (CBD) and Rare Cannabinoids were supplied by OBX, a NSF-certified manufacturer.
The OBX Pain Study on CBD and Rare Cannabinoids was a randomized, controlled clinical trial of cannabinoids for pain, involving more than 1,600 participants from across the U.S. and one of the first of its kind to examine the synergistic impact of rare cannabinoids like Cannabichromene (CBC) and Cannabigerol (CBG) on pain.
Results demonstrated clinically meaningful improvements in pain across the different formulations of CBD and rare cannabinoids studied.
CLINICAL TRIAL METHODOLOGY
The OBX Pain Study on CBD and Rare Cannabinoids was a blinded, randomized, controlled clinical trial to evaluate the effects of various cannabinoid formulations on pain, as well as other health outcomes. The trial was specifically designed to examine if adding other ingredients to a formulation ("enhanced products") in conjunction with CBD could lead to better outcomes than with CBD alone. The trial included six product arms, which all contained CBD at 40 mg per serving. Most arms also contained varying levels of rare cannabinoids, including CBG and CBC.
A diverse sample of 1,629 pain-sufferers from across the U.S. were randomized to receive and take one of these product formulations for a month while reporting their pain relative to specific benchmarks that included severity, general activity, sleep quality, anxiety symptoms and overall quality of life.
SIGNIFICANT RESEARCH FINDINGS
All of the enhanced product formulations included in this clinical trial led to statistically significant improvements in pain, anxiety, sleep quality and overall quality of life.
On average, nearly half (44.8%) of participants who received any of the enhanced products experienced a clinically meaningful improvement in their pain, meaning they realized a distinct and palpable improvement in their quality of life through improved pain symptoms.
Overall, the different enhanced formulations performed roughly the same for the improvement of pain, anxiety, sleep quality and quality of life. However, for people with moderate pain, there was evidence that the addition of 20mg CBC to a formulation containing 40mg of CBD could significantly improve its pain-relieving effects—particularly when this enhanced product was taken for two or more weeks.