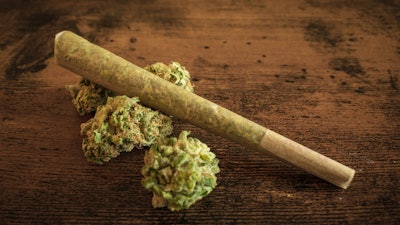 iStock
B Noble and Curaleaf, an international provider of consumer products in cannabis, said the brand's 2-pack pre-rolls are now available at Curaleaf's locations in Bellmawr and Edgewater Park, as well as medical and adult-use dispensaries across the state.
Founded in collaboration with Fab 5 Freddy and Bernard Noble, B NOBLE is a for-profit, cause-based cannabis brand. As part of Curaleaf's corporate social responsibility program, Rooted In Good, B NOBLE launched in July 2021 and is the company's first large-scale brand venture in alignment with its dedicated social equity work.
The brand is dedicated to telling the story of its namesake, Bernard Noble, who was arrested in Louisiana and sentenced to 13 years in prison for possessing the equivalent of two joints. In 2017, Noble's case began to draw attention across the country, and he quickly became a national symbol for the need to reform the country's unjust drug laws, sparking advocacy and a movement to free him. As a result, Noble was released seven years into his sentence and his story was featured prominently in Fab 5 Freddy's 2018 documentary, "Grass Is Greener."
B NOBLE brings a Black-owned cannabis brand to New Jersey's regulated adult-use cannabis market. The New Jersey adult use cannabis market has already generated $24 million in its first month of sales and is projected to exceed $528 million by the end of 2022. Curaleaf began adult use sales at its Bellmawr location in April, and at its Edgewater dispensary on May 24.