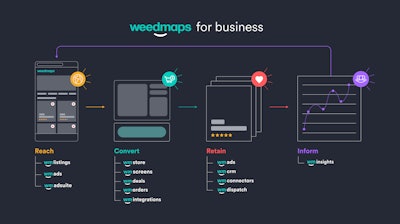 Business Wire
WM Technology, a marketplace and technology solutions provider to the cannabis industry, today announced the launch of Weedmaps for Business.
Formerly WM Business, the company's reconfiguration and renaming of its SaaS offerings better reflects the comprehensive B2B and B2C suite of products that affords cannabis retailers and brands of all sizes with fully integrated tools to run their businesses.
"Since 2008, we have been working to build a complete SaaS platform that provides a suite of compliant, data-driven solutions that enables our clients to reach, convert, and retain customers both online and in-store," said Chris Beals, CEO of WM Technology. "While consumer discovery will always be the key value that we offer to our clients, the Weedmaps model has migrated naturally upstream to power and grow businesses holistically."
This realignment includes the integration of WM Technology's recent acquisitions — Sprout, Enlighten, Cannveya, and CannCurrent — and enables the technology company to provide an interconnected suite of logical, end-to-end solutions. With the addition of these companies, WM Technology now supports businesses at every stage in the consumer funnel which enables cannabis businesses to:
Strategically reach prospective cannabis customers through Weedmaps' marketplace via WM Listings, WM Deals and WM Ads, and extend that reach through WM AdSuite.
Compliantly manage pick-up, delivery, and inventory in accordance with local regulations through WM Orders and WM Dispatch.
Help improve customer experience by creating online ordering functionality on a brand or retailer's website with WM Store and extend that functionality in-store with kiosks from WM Screens.
Foster customer loyalty and re-engage consumers with WM CRM and its integration with the Weedmaps marketplace.
Leverage the Weedmaps for Business products in conjunction with any other preferred software solutions via our third party integrations and create a scalable customized workflow with WM Connectors.
Make informed marketing and merchandising decisions using performance analytics and consumer and brand insights to promote products to specific consumer groups with WM Insights.