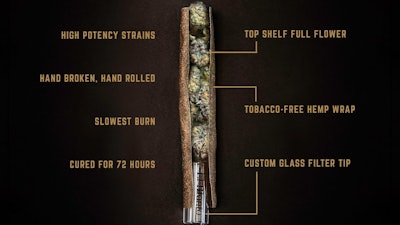 El Blunto
El Blunto announced that it is bringing its products to the Canadian market in partnership with Olli Brands, a Canadian cannabis company based in Toronto, Ontario.
"In 2018, Canada became the first developed nation to legalize use of recreational marijuana," said Q. Ladraa, CEO of Albert Einstone's, El Blunto's parent company. "Since then, the country's cannabis market has more than doubled in value and continues to be among the strongest markets in the world. We are thrilled to expand our brand's accessibility on an international level and are beyond excited to introduce El Blunto to the mature, Canadian recreational cannabis consumer. Olli takes a meticulous approach to brand development and customer satisfaction. We deeply identify with their ethos and we're delighted to be partnering with them."
El Blunto will be available in Ontario starting in January 2023 and additional provinces shortly thereafter. The two initial product offers are a .75 gram full-flower El Bluntito cannabis cigarillo and a 2 gram full-flower El Blunto cigar infused with premium THCa cannabis diamonds.
"The quality and consistency of the El Blunto product line is what attracted us to the company," said Ranjit Vazhapilly, CEO of Olli Brands. "The success of their products in the U.S. markets and the need for more higher quality offerings focused on the infused flower segment in Canada were major factors that excited us about the opportunity to partner with Albert Einstones and El Blunto."