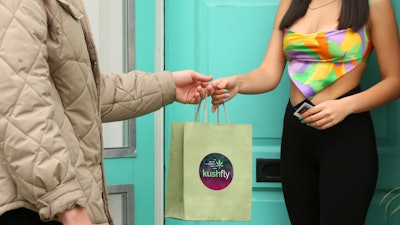 Kushfly
Kushfly is a cannabis delivery service that has been in the market since 2015 and it's expanding its same-day delivery service near Southern California.
Kushfly customers can select shatter, edible, flower, or other items, then add their delivery information and then select same-day delivery service during check-out. Afterward, customers get a text message to complete the age verification process. An ID is essential to ensure a person is of legal age to receive cannabis products. When receiving a package, a person must have a verified ID to receive marijuana.
For same-day delivery, customers can expect to receive packages from Monday to Sunday 12-3 p.m. and 7-10 p.m. on the day of ordering. The minimum order is $100.
The company conducts same-day delivery service in the following cities: Long Beach, Anaheim, Altadena, Arcadia, Temple City, El Monte, Rosemead, San Gabriel, East Los Angeles, South Los Angeles, Calabasas, Alhambra, Gardena, Torrance, Hawthorne, Manhattan Beach, Redondo Beach, Hermosa Beach, Simi Valley, Santa Clarita, Thousand Oaks, All San Fernando Valley.