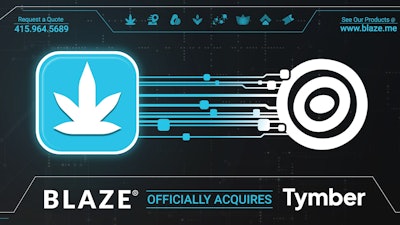 Blaze/Tymber
BLAZE, a cannabis software suite and point-of-sale (POS) platform for dispensaries and delivery services, today announced its acquisition of Tymber, an e-commerce provider for cannabis retailers.
"BLAZE builds exceptional tools that serve the technology needs of successful dispensaries. Acquiring Tymber brings its unparalleled online shopping experience into our ecosystem and allows us to meet the cannabis retailer at any point along their journey," said BLAZE CEO Chris Violas. "Tymber differentiates itself by enabling retailers to create a unique shopping experience that showcases their brand through a growing catalog of premium e-commerce themes and by empowering the retailer with automated SEO and control of their data."
"We founded Tymber as the first e-commerce solution truly built for retailer operators—no ulterior motives, no conflicts of interest. Today, the need for retailers to take control of their businesses has never been more urgent," said Scott Roehrick, CEO of Tymber. "With this acquisition, we are excited to accelerate innovation, and distribute it to a larger audience throughout North America and beyond."
To ensure consistent service and customer satisfaction, current users of Tymber and BLAZE will continue to enjoy the functionality and integrations that they know and love, while gaining access to additional capabilities and cannatech tools.