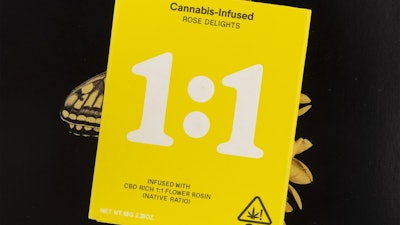 Rose
Rose announced an exclusive partnership with Kiva Sales and Service to act as their exclusive distributor to bring the brand's original Turkish-Delight style edibles alongside a new effects-based approach to their Delights and a brand new line of Rose Flower to retailers across California.
"I speak for our whole team when I say how excited and honored we are to be represented to our retailers by the KSS team" commented Nathan Cozzolino, Rose Founder. "As Rose continues to rapidly expand our product line with a new effects-based approach to our Delights and a brand new line of Rose Flower, it makes it timely for us to transition to and leverage the knowledgeable and hard working team, KSS. We feel strongly that this will give us the ability to focus on the work we do best, continuing our pursuit of making the best quality cannabis products we possibly can."
Rose offers Turkish-Delight style edibles infused with single-strain flower rosin and seasonal produce, brought together in unique flavors developed by renowned chefs. Pressed from whole, cured flower, their house-made flower rosin preserves the beneficial natural properties of the plant, honoring it in its original form while providing you the best quality experience.
"Rose is consistently known as one of the top cannabis brands in California, offering consumers unrivaled products in terms of quality and originality" said Brooks Jorgensen, President of Kiva Sales and Service. "We're thrilled at the opportunity to partner and to act as their exclusive distribution partner to help the brand further reach consumers across California and bring their new product lines to market."