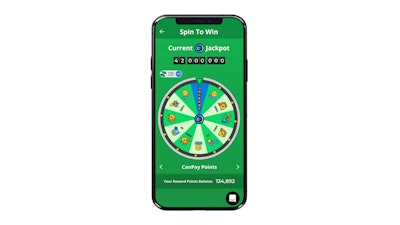 CanPay
CanPay launched today its CanPay Points Rewards Program. Consumers that use CanPay to pay for their purchases will now enjoy free daily and after-purchase opportunities to win CanPay Points. Points can then be used to discount future purchases at any of CanPay's more than 1,000 participating merchant locations in over 30 states.
For the first time in the cannabis industry, consumers can now enjoy rewards from their payments just like they do when paying with their cash back and rewards credit cards at traditional retailers. Consumers, after each purchase made with CanPay, will have a chance to spin the "Spin to Win" rewards wheel where they can win various points rewards including a Jackpot that starts at $4,200 in points. There will also be a daily $420 in points giveaway for customers through 4/20.
"CanPay is already the preferred payment method for hundreds of thousands of cannabis consumers and now those consumers get to enjoy an even more rewarding payment experience when they pay with CanPay," says Dustin Eide, CEO of CanPay. "Generally, cannabis payments are boring and charge extra fees to the consumer to use them. Not only is CanPay free to the consumer, but now they'll be able to use CanPay to save on their purchases. CanPay Points discounts are stackable with any discounts offered directly by merchants."
The largest legitimate payment network for cannabis retailers and consumers, CanPay provides an easy-to-use app that allows consumers to pay for purchases at cannabis retailers with a simple debit from their checking account using the Automated Clearing House (ACH) network. Merchants with a compliant bank account at a CanPay-approved financial institution may join the CanPay network quickly and easily.
CanPay's mobile payment app is accepted by 10 of the top 13 public-company, multi-state operators (MSOs). The app's proprietary Purchase Power tool creates custom spending limits, with a maximum daily customer spending limit of $5,000. That's the highest advertised spending limit in the cannabis industry – and significantly higher than the amount of cash that a customer can withdraw from an ATM at one time.