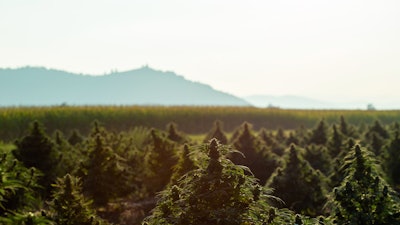 iStock
Canopy Growth announced today that it has filed a revised proxy statement with the U.S. Securities and Exchange Commission, which includes updates related to its strategy to accelerate entry into the U.S. cannabis industry through a U.S.-domiciled holding company, Canopy USA. Upon receiving shareholder approval for the creation of a new class of non-voting exchangeable shares in the capital of Canopy Growth, Canopy USA is expected to exercise rights to acquire Acreage Holdings; Mountain High Products, Wana Wellness and The Cima Group (collectively Wana); and Lemurian (Jetty).
In order to ensure continued compliance with NASDAQ's listing rules, Canopy Growth has modified the structure of the company's interest in Canopy USA such that it will not be required to consolidate the financial results of Canopy USA with the Company's financial statements in accordance with generally accepted accounting principles in the United States. Importantly, under the revised structure, the potential strategic benefits of Canopy USA remain intact, including:
Fast-tracks entry into the world's largest and fastest growing cannabis market: The U.S. cannabis market is projected to be an over $50 billion market opportunity in 20261, and this strategy aims to unlock the ability to capture share and return on investments made to date. Through these "stepping stone" transactions, Canopy Growth will be strategically repositioned to capitalize on the benefits of complete ownership and control of its U.S. THC portfolio of assets upon federal permissibility of cannabis in the United States.
Establishes an industry-leading, premium focused brand powerhouse: Canopy USA's portfolio includes some of the most recognized, iconic cannabis brands in the U.S. that Canopy Growth believes are ideally positioned in the fastest growing categories, such as edibles, vapes, and flower. Canopy USA is expected to leverage the best of each brand's offerings to accelerate growth and market expansion as key states across the country continue to allow recreational cannabis usage, realizing value in the near term and setting Canopy Growth up for a fast start upon U.S. federal permissibility of cannabis.
Financial benefits via revenue and cost synergies within Canopy USA: The combination of U.S. cannabis assets is expected to generate revenue and cost synergies within Canopy USA by leveraging the brands, routes to market and operations of the full U.S. cannabis ecosystem while eliminating redundancies across certain of the Structured U.S. Investments (as defined in the proxy statement) and the public company reporting costs of Acreage. It is also expected to reduce operating expenses and logistical burden associated with various investments, counterparties, and definitive agreements involving the Structured U.S. Investments. These benefits are all expected to be realized while cannabis remains federally illegal in the United States.
Highlights the value of Canopy USA's U.S. THC Investments: While Canopy Growth will not consolidate the financial results of Canopy USA, the Company continues to expect that it will highlight the value of Canopy USA's U.S. THC assets to investors following the acquisitions of Acreage, Wana, and Jetty by Canopy USA.