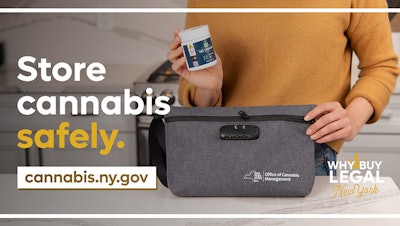 ny.gov
New York Governor Kathy Hochul announced the launch of "Why Buy Legal New York," a public education campaign promoting safer, informed, legal purchases of cannabis from licensed dispensaries in New York State.
The campaign focuses on three key pillars: protecting public health and promoting social equity and community reinvestment. Governor Hochul made the announcement alongside the New York State Office of Cannabis Management at CUNY Law School in New York City. The "Why Buy Legal New York" announcements explain and emphasize the potential health risks associated with purchasing cannabis products from unlicensed businesses and why regulated cannabis products are safer. It also outlines how buying legal supports the advancement of New York's social and economic equity goals for communities across the State.
"To bolster the public health and safety of all New Yorkers, we are providing them with information they need to make informed decisions and enjoy cannabis responsibly," Governor Hochul said. "As we continue to build a healthier and more equitable cannabis market, I am proud to launch this important public education campaign to promote safer, legal purchases of cannabis from licensed dispensaries throughout our state."
The primarily digital campaign will target cannabis consumers 21 years old and over and includes various educational materials, such as "The Guide to Safer Cannabis Consumption". These materials will provide information on how to find legal dispensaries in New York and tips on how to consume cannabis safely.
The PSAs will appear on social media, on streaming services, and on transit and place-based advertising across the Empire State.
April 20, commonly known as 4/20, has become a global phenomenon that celebrates cannabis culture and its evolving legal landscape. Initially a protest against cannabis criminalization and the unequal enforcement of drug laws, the day now also marks a victory for advocates who have fought tirelessly to end cannabis prohibition. As we approach this highly anticipated day, it is crucial to reinforce health and safety messages and remind New Yorkers to consume cannabis responsibly. By launching the "Why Buy Legal New York" campaign across multiple platforms, including Instagram, Facebook, and streaming services, New York State is ensuring that these vital messages reach as many people as possible at a time when awareness around cannabis is heightened.