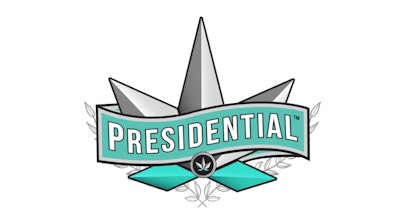 Presidential Cannabis
Presidential Cannabis has announced its expansion into the Arizona, Michigan, Nevada, Oklahoma markets. This marks Presidential's entrance into its first states beyond California as the brand celebrates ten years in the cannabis industry.
Founded in 2012, Presidential boasts the best-selling blunt and other top pre-rolls in California and is known as "The World's Strongest." Presidential is an established brand and leader in California cannabis, creating some of the first infused products in the United States using high-quality flower and cutting-edge science. According to recent BDSA data, Presidential has become the number one blunt brand and number four infused pre-roll brand on the market as the Company expands into new states. Presidential's launch into these states will also feature collaborations with fellow cannabis operators including Ball Family Farms.
Presidential's offerings in Arizona, Michigan, Nevada, and Oklahoma will feature fan favorites of the brand's signature slow-burning and potent Moon Rock product portfolio, created using high-quality flower infused with premium THC distillate, then coated in top-tier kief. Consumers will have the opportunity to choose between Presidential's original, individually-wrapped 1g pre-rolls and 1.5g blunts and the brand's PeeWee line, which offers packages of three 0.5g pre-rolls and three 0.7g blunts. The initial rollout will include Grape, Peach Mango, Strawberry and Watermelon flavors.
"After a decade of building our brand and reputation in cannabis, the Presidential team could not be more excited to continue our momentum in four new markets," said Everett Smith, co-founder and CEO of Presidential. "These beautiful states exhibit a rapidly maturing cannabis space, making them the perfect next steps for our company as we strategically reach new markets. I am thrilled to introduce Arizona, Michigan, Nevada and Oklahoma consumers to our beloved Moon Rock products and am confident that they will embrace Presidential with enthusiasm."
These four states represent incredible potential for growth in the cannabis sector. In 2022, the Arizona recreational market reached over $950 million in sales, while Michigan grows as a powerhouse cannabis environment as the second largest market in the country. In Nevada, cannabis is garnering over one billion dollars in sales between adult-use and medical dispensaries in 2021 alone. In the same year, Oklahoma generated close to $150 million in revenue from medical sales. Nearly one in ten Oklahoma residents now hold medical cannabis cards as the market expands, largely thanks to low costs for business, cultivation or transportation licensing.