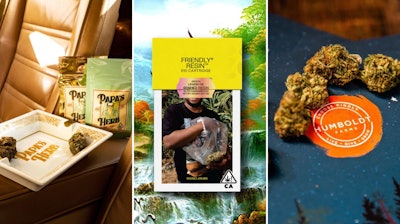 Nabis
Nabis, a licensed cannabis wholesale platform in the world's largest legal cannabis market, announced three new exclusive distribution partnerships with California-based brands: Papa's Herb, Humboldt Farms, and Friendly Farms.
Legal state cannabis retailers will now have access to the Papa's Herb nostalgic product line made "by the people, for the people," in addition to Humboldt Farms' sun-grown flower and concentrates, and Friendly Farms' TruSpectrum™ extracts. Using Nabis' marketplace logistics, technology, and short-term financing solutions, these brands will be able to accelerate their growth across the state.
The Nabis portal offers all of its partners a suite of supply chain management tools, tech-forward logistics to inform business strategy, and access to Nabis Capital—a user-friendly financial service integrated directly into the portal, designed to support the volatile cash cycles often created by selling to retailers on net terms. Additionally, Nabis' one-stop-shop marketplace platform enables streamlined communications and timely distribution deliveries between brands and retailers.
As the California cannabis market continues to face consolidations, brands and retailers are becoming more reliant on the success of robust, holistic solutions like Nabis' marketplace for wholesale fulfillment across the state's supply chain. Utilizing a tech-forward approach, Nabis' tools help brand partners strengthen their operations.